ANALYTICS BY EVONIK
Solutions from one source
As Analytics by Evonik we see ourselves as a troubleshooter that is in direct contact with our customers for questions in regard to the pharmaceutical industry and specialty chemicals. Depending on the tasks, the analyses are carried out in the laboratories at our Darmstadt, Hanau, or Marl sites.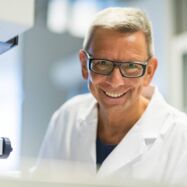 Employees – Our potential for your individual solution
The latest technology and excellent equipment are the basis, but it is the people behind these who make the real difference. Our more than 240 employees, in whom we continuously invest to keep their training levels up to scratch, look forward to discussing your problems in person with you.
HISTORY
Analytics by Evonik was established on January 1, 2015 through the merger of AQura GmbH, a wholly owned subsidiary of Evonik Industries AG, and the central analytics unit at the Evonik site in Darmstadt, Germany. After the closure of AQura GmbH on January 1, 2016 and the transfer of Technology & Infrastructure GmbH to Evonik Operations GmbH on 1 July 2020, we currently offer you competent solutions for analytical issues. This merger extends the foundation of technologies, methods, and expertise so that we can provide you with a broad range of solutions.